Alice Springs
Alice Springs has all the conventional stores like most regional towns in Australia such as Cole's

, Woolworth's

and IGA

. However outdoor and camping stores which stock specialised dehydrated camping foods are limited. Larapinta Trail Trek Support

sells a wide range of dehydrated foods. There are some niche type food shops in Alice Springs which provide a range of healthy/eating food options as well such as Afghan Traders


There are only three locations ( outside Alice Springs) where some limited types of food can be purchased along the entire trail, they are: Ormiston Gorge

, Standley Chasm

and Glen Helen Resort

. Each location has a reasonably good range of food and drinks (most of it takeaway type food - but can be expensive because of their remote localities). Glen Helen Resort has a full restaurant and bar service. Consider contacting these places for further information on their range of foods, their opening and closing times and prices.

Ormiston Gorge Kiosk ( image

below

)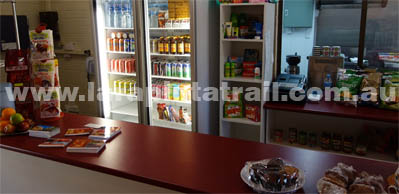 Kiosk Phone and more info: 08 89540152

Open 6 days a week 10am - 4pm. Times may vary during busier seasons

Items for sale include;

Cold drinks ( including freshly made iced coffee)

Espresso Coffee ( made with freshly ground beans)
Ice Creams.
Lunch items: Pies, pasties, sausage rolls, foccacia's, lasagne & salads
Camping supplies: Bread, milk, block ice, insect repellent & other basics

If you don't organise your own food resupply, there are a few local operators (see here) which offer food drops ( and pick ups), predominately vehicle based drops ( helicopter options are also available). Most are the same operators who provide trail transfers. Prices vary, but most deliver a good and helpful service.
The most common food drop points are at the official food storage points (see below), but some may be able to drop food off elsewhere along the trail. They can also organise the storage room key for you. While these local operators can be very helpful to a point, it is up to the hikers to organise their own food and storage containers properly.

Some Useful Points
| | |
| --- | --- |
| | Make sure your containers are packed and sealed well |
| | Use reasonably sturdy containers, plastic is best. |
| | Varying types of plastic containers can bought at Bunnings in Alice Spngs |
| | Cardboard boxes are not recommended. Think critters and petty theft! |
| | Seal containers with tape or zip ties. Keeps critters or petty theft at bay |
| | Don't leave any loose items, always pack everything in the containers. |
| | Mark your containers clearly and distinctively. |
| | Theft is very rare, but does occur, especially with wine /alcohol |
| | There are always leftovers in the storage areas which are free to use |
| | Leftover containers are marked with Larapinta Trail and NT Parks stickers. |
| | You can donate food/items by leaving them in the leftover container |
| | Always lock the door behind you. These are public areas |
| | And remember to include other essential items other than food (fuel etc) |

Consider the following factors which will influence what food you choose for your trek on the Larapinta Trail
Natural Factors: Most Common of the Larapinta Trail
This will affect your energy output ( which will need to be replenished)
| | |
| --- | --- |
| | Varying trail conditions; affecting physical stress & exertion |
| | Varying levels of trail grades; affecting physical output levels |
| | High levels of heat, sun, wind & UV exposure; i.e. dehydration & stress |
| | Constant high exposure to conditions; reducing exertion recovery |
Human Factors ( The Hiker)
Type of food

selected; nutritional & energy value etc.

Level

of Individual

health

and

fitness

of the hiker

Knowledge

&

experience

of the hiker

Distance

,

duration

,

difficulty

of the trek, and time of year.

Weight & pack capacity

needs

Food resupply regularity

and resupply points

Creativity & innovation

of the hiker; i.e. making tasty meals from basics

Religious, Philosophical or Allergy

considerations of the hiker



The following Food List s a general guide only.

The list is not definitive nor universal. Food choices will vary considerably between hikers. Quantities of items listed below are not generally shown because this will depend on the trek, duration, food preferences and re-supply options. Always seek professional advice if you are unsure what food to take.

Freeze Dried & Dehydrated Food: A very popular food option with bushwalkers and trekkers, freeze dried meal packs now come in a variety of fancy meals. Back Country is one of the most well known and used brands

Dehydrated & Freeze Dried

Your own or packaged

Jerky & Biltong

Beef, Kangaroo, Camel

Cured Meat

i.e. Droewors

Museli, Rolled Oats

.

Breakfast Cereals

i.e. Carmans

Nuts, Seeds

i.e. Almonds, Pumpkin seeds

Fruit & Nut Bars

.

Fruit Rolls/Snacks

i.e. roll ups

Pita Bread

.

Pasta & Grains

i.e. Continental pasta & sauce packs

Soups & Instant noodles

i.e. Continental

Rice

.

Biscuits/Crackers

.

Cheese, matured

i.e. parmeson

Milk, powdered

.

Condensed milk, tube

.

Coffee

.

Tea, Caffeinated

.

Tea, Herbal

i.e. Sleepytime, Green Tea

Beverage, powdered

.

Energy Bars

.

Chocolate

.

Lollies

i.e. Boiled, hard

Packaged Foods ( i.e Wet, )

Soups ( packed or can)

i.e Maggi Fusian

Meals ( packed or can)

i.e. Harvest canned meals

Meat, canned

i.e. Heinz Chicken shredded

Tuna, Sardines, Oysters

.

Vegetables, Canned

.

Fruit, Canned

.

Oils

i.e Olive or Onion oil

Cheese Sticks

.

Spreads

Honey, Vegemite, Chutney, Syrup etc

Sauces

.

Juices, long life

i.e. V8

Breakfast Drinks

i.e Up and Go

Milk, UHT/Condensed

.

Cake & Pudding

.

Boosters ( i.e adds flavour, depth and creativity to food)

Pepper, Salt, Sugar, Chilli

.

Herbs and Spices

.

Stock, cubes

i.e Vegeta & Podravka, Massel

Custard powder

.

Tabasco Sauce

.